2020 Bentley Mulsanne Price & Configurations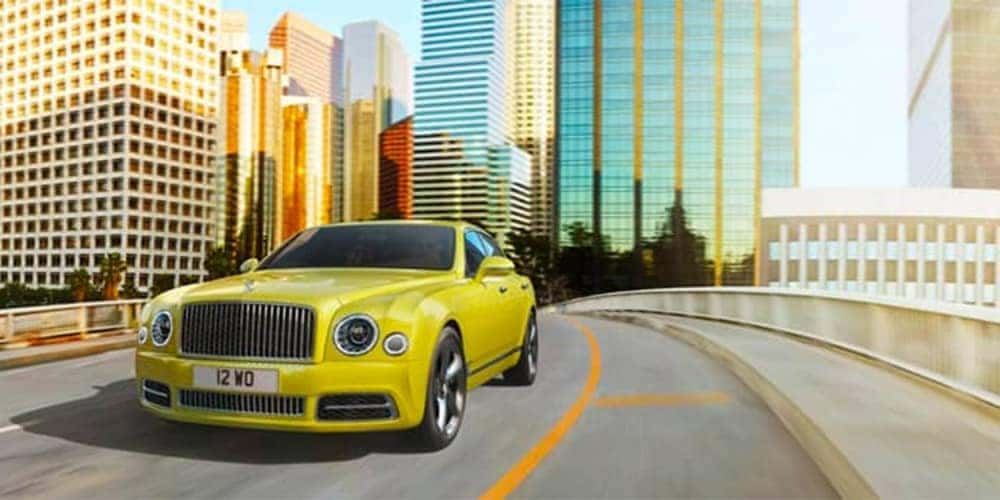 This impeccably-designed and handbuilt 2020 Bentley Mulsanne delivers a touring experience that none of its rivals can match. Since it stands at the pinnacle of the Bentley lineup, you know that it delivers everything you'll need to feel at home on the roads near San Antonio. The Bentley Mulsanne price list starts at $316,525 MSRP, but you'll have three configurations and a wide range of options to consider.
Choosing the Right Bentley Mulsanne for Sale
If you decide that you're not entirely enamored with the baseline Mulsanne, you'll be able to choose between the Mulsanne Extended Wheelbase and the Mulsanne Speed! Choosing either will increase your final Bentley Mulsanne price, but we don't think that you should ever settle for anything else than your desire demands.
Here's why you'll want to consider all of your options:
Bentley Mulsanne Speed – Although both the base Mulsanne and the Mulsanne Speed include a turbocharged V8 engine, choosing the Speed raises your performance specs to 529 hp and 811 lb-ft of torque. That's up from 505 hp and 752 lb-ft of torque in the base model.
Bentley Mulsanne Extended Wheelbase – Choosing the Extended Wheelbase model will increase the total length of the Mulsanne from 219.5 inches to 229.3 inches. The wheelbase itself, at 138.4 inches, is a full 10.2 inches longer than the base model's.
Features & Options for Your Bentley Mulsanne
Whether you're seated behind the wheel or riding comfortably in the rear, you can trust that you'll feel right at home on the roads near Dallas and Houston. Its remarkable touring capabilities are perfectly complemented by its vast array of features and options:
Air springs with continuous damping control and four selectable settings
20-inch Signature Wheels
Choice of 25 exterior paint colors
Full LED headlights with four beam patterns
Choice of 24 premium grade hide interior colors
4 + 1 Seat Configuration
Mulsanne audio system with 14 speakers, two subwoofers, and 6 channels
8-inch high-resolution screen
Single-tone, 4-spoke, hide trimmed steering wheel
Leather headlining
Choice of 10 single finish veneers
Naim For Bentley premium audio system
Adaptive Cruise Control and Corner View Camera
Refrigerated Bottle Cooler
Black or Ivory Curtains to Rear Cabin
While you're here, explore the pricing for the Bentley Flying Spur! You just might fall in love with what you find.
Your New Mulsanne Awaits at Bentley Austin
Are you eager to find a new Bentley Mulsanne for sale at Bentley Austin? You'll love the options you have in our inventory. Interested in configuring your own model from scratch? Contact us today and find out how to shop online for a customized Mulsanne today.