Breaking Down the 2020 Bentley Bentayga Specs

---
---
You love the look and feel of the 2020 Bentley Bentayga, but which of its six available trim levels will feel like the perfect fit for your adventures through the San Antonio area? In order to get to the heart of that question, you'll need to take the time to explore the Bentley Bentayga specs in depth! We've put together a short guide with everything you'll need to get started.
Bentley Bentayga Performance Specs
The latest Bentley Bentayga specs will vary depending on the configuration that you select for your drives through Dallas and Houston here.
Bentley Bentayga
600 bhp @ 5000 – 6000 rpm
664 lb-ft of torque @ 1350 rpm
0 – 60 in 4.0 seconds
Top Speed of 187 mph
Bentley Bentayga V8 / V8 Design Series
542 bhp @ 6000 rpm
568 lb-ft of torque @ 1960 – 4500 rpm
0 – 60 in 4.4 seconds
Top Speed of 180 mph
Bentley Bentayga Diesel
429 bhp @ 3750 – 5000 rpm
664 lb-ft of torque @ 1000 – 3250 rpm
0 – 60 in 4.6 seconds
Top Speed of 168 mph
Bentley Bentayga Hybrid
443 bhp Combined System Power
516 lb-ft of Combined System Torque
0 – 60 in 5.2 seconds
Top Speed of 158 mph
The Bentley Bentayga Hybrid powertrain combines the power of a 335 bhp V6 engine with a 126 bhp E-Drive system.
Bentley Bentayga Speed
626 bhp @ 5000 – 5750 rpm
664 lb-ft of torque @ 1500 – 5000 rpm
0 – 60 in 3.8 seconds
Top Speed of 190 mph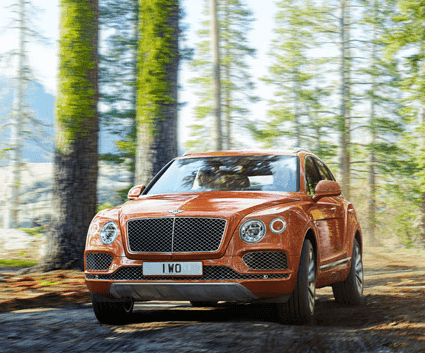 Bentayga Exterior Specs and Dimensions
The Bentley Bentayga is a high-precision machine, and here, what's on the outside is almost as important as what's under the hood. No matter which model you settle on, you'll find that form and function come together seamlessly in this impeccably-appointed and smartly-designed SUV.  What follows are the exterior specs for the base model, the standard Bentley Bentayga configuration:
Curb Weight – 5379 pounds
Overall Length – 202.4 inches
Wheelbase – 117.9 inches
Overall Height – 68.6 inches
Width Across Mirrors – 87.6 inches
Width with Mirrors Folded – 78.7 inches
When you're exploring the Bentley Bentayga lineup, you should keep in mind that your choice of trim will affect your vehicle's weight and weight distribution, and that both factors can have a significant impact on performance. Just for starters, note that the Bentayga V8 comes in at 5264 pounds, and that the Bentley Hybrid has a curb weight of roughly 5761 pounds.
Contact us today to learn more about the Bentley Bentayga price points and features, and find the model that's right for you. Interested in other models? Check out the Bentley Mulsanne pricing, too!
There's No Substitute for Time Spent Behind the Wheel
Now that you've had the chance to explore all of the most exciting Bentley Bentayga specs, we know that you'll be eager to spend some time in the driver's seat. When you're ready to take a test drive that you'll never forget in one of our new Bentayga SUVs, contact Bentley Austin, come see us in person, or learn more about how to shop and buy online. We'll set you up in the Bentayga of your choosing, and answer any questions on your mind while you're here.
Eager to get started? Explore our exciting offers and incentives and reach out to our financing department today.
More About Bentley Model Features