What is a Serpentine Belt?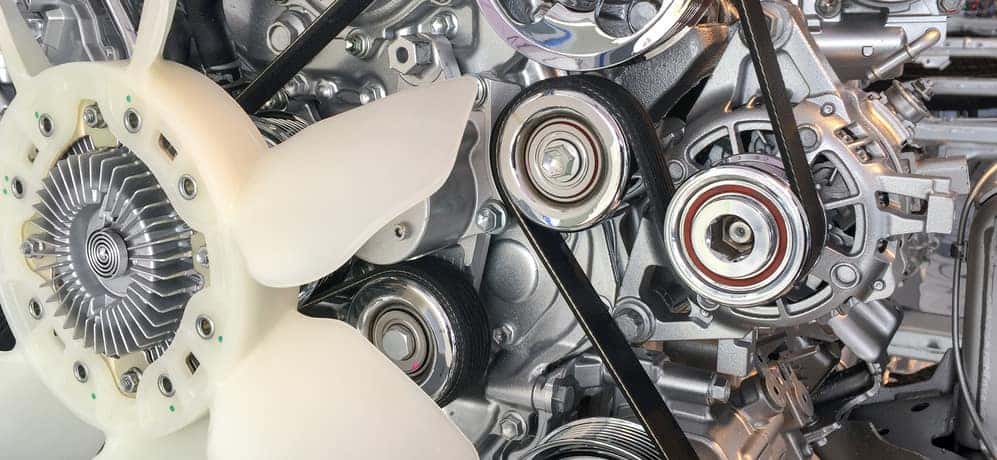 ---
---
What is a serpentine belt? A serpentine belt is a long, winding belt which connects your engine block to your alternator, power steering pump, and air conditioning compressor. These are just a few of the components that rely on the serpentine belt in order to function properly, so you should definitely know the signs that distinguish a failing belt from one that's functioning properly.
How Long Do Serpentine Belts Last?
What does a serpentine belt do in Bentley cars and SUVs? As in other models, the serpentine belt allows for a smooth transfer of power to many of your cars most important components. Essentially, the process starts when the belt receives power from the engine. This power is carried along the belt to a variety of essential parts. For this reason, it's essential to answer the question, "How long do serpentine belts last?" The good news is that most belts last for a long, long time–up to 100,000 miles or longer, in many cases. However, keep in mind that Bentley cars and SUVs use an auto-tensioning mechanism in order to keep the serpentine belt secure. Have this checked out regularly for wear and tear.
How Do I Know it's Time to Replace My Serpentine Belt?
If a serpentine belt fails, your vehicle may simply shut off. Although you can count on Bentley Roadside Assistance to help you out of any binds near Dallas or Houston, we want to do everything in our power to help you avoid this inconvenience. Here are the signs that it's time to replace your serpentine belt:
What is a serpentine belt saying if you hear squeaking or squealing from under the hood? It isn't hard to guess that you're dealing with a "glazed" or worn-down product, and that you should schedule service as soon as possible.
If your car seems to be running fine, but you're having difficulties with your power steering or your air conditioning, a decaying serpentine belt may be to blame.
In most cases, wear and tear will be visible on the surface of a serpentine belt that's nearing the end of its life.
Identifying wear on the serpentine belt auto-tensioner can require an expert eye. Making sure that you keep up with your regular Bentley service appointments is the best way to prevent issues in the long run.
Will My Serpentine Belt Wear Out if I Don't Drive Very Often?
Many Bentley drivers near San Antonio and El Paso let their vehicles sit for long periods of time. There's nothing wrong with that; after all, a high-end Bentley model deserves ideal driving conditions. What is a serpentine belt going to look like if it's been a year or so since your last outing? Although major wear and tear will likely only result from prolonged use, the rubber in your serpentine belt can wear out over time, especially when exposed to extreme temperatures. We recommend a tune-up before you try to push any limits.
Service or Replace Your Serpentine Belt at Bentley Austin
If you think you're due for a serpentine belt replacement, or you'd just like an expert to take a look, come in and visit us at Bentley Austin today. Our service team carries out all repairs and replacements with genuine OEM parts, so you're guaranteed to get your money's worth here.
Learn More with Bentley Austin
Are you ready to take over the San Antonio streets? If so, the new Bentley Bentayga offers the specs you crave. This exquisite SUV is truly a peerless model in class, performance, and style. Crafting a Bentayga to match your own style is easy, thanks to the extremely wide range of available colors. Explore the 2021…

The Bentley Flying Spur has impressed industry experts and serious auto aficionados alike, and the latest model is better than ever before. In this guide, we take you inside the ultra-luxe 2021 Bentley Flying Spur interior to reveal the upscale design and cutting-edge amenities of this premium sedan. Want to take it for a spin?…

Are you looking for an SUV that won't compromise on luxury? Then it's time to take a look at the 2021 Bentley Bentayga interior. This model showcases Bentley's immaculate style and cutting-edge technology, along with plenty of practical conveniences to make your San Antonio driving experience better than ever. Get a sneak peek inside the…