How Often Should You Rotate Your Tires?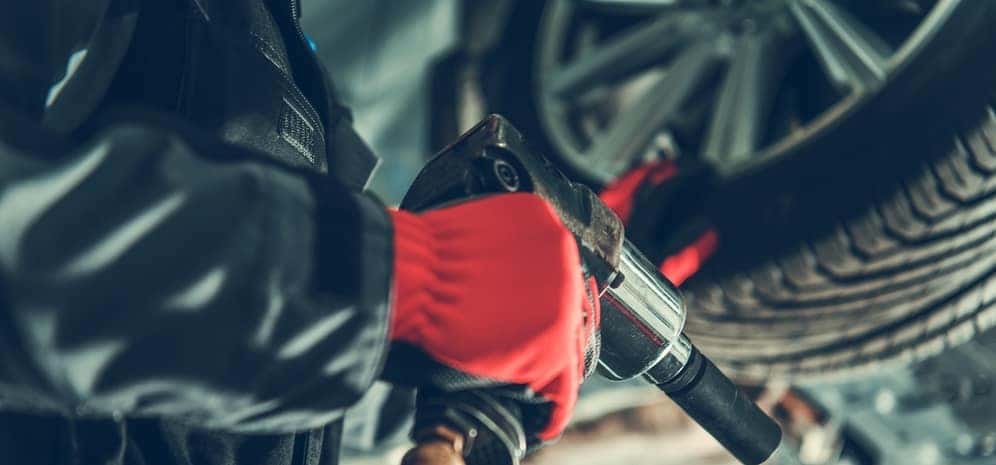 One of the most common questions we're asked about Bentley service is, "How often should you rotate your tires?" Most experts agree that a tire rotation should be completed every 5,000 to 7,500 miles. This is a general suggestion, however. If you don't travel 7,500 miles a year in your Bentley (which many Bentley owners don't), you may not need tire rotation service as frequently. If you're curious about when to rotate tires, read on to learn more about suggested intervals based on drivetrain.
FWD & RWD: Tire Rotation Pattern
When a car has front-wheel drive, it means the power from the engine is directed to the front axle. Meanwhile, rear-wheel drive cars direct power to the rear axle. This means that the front or rear tires, depending on the drivetrain, will wear more quickly because they're receiving the largest supply of power and work harder. To prevent uneven tread wear and the need for early tire replacement, the following steps should be taken to ensure the tires are rotated and kept in the best possible condition:
Generally, tire rotation for RWD and FWD cars should be completed every 5,000 to 7,500 miles. Again, this can vary depending on how much you drive your new or pre-owned Bentley. Consult one of our friendly technicians to learn more!
When a tire rotation on a FWD vehicle is performed, it needs to be done a certain way. When moving the rear tires to the front, the sides should be flipped. The rear right tire should go on the front left, for example. Front tires being moved to the back should stay on the same sides.
The opposite is true for the tire rotation process on RWD cars. When the front tires are moved to the back, the sides should be flipped. When moving the rear tires forward, however, the sides should be kept the same.
Factors like how you drive and the road conditions around San Antonio will affect your tire rotation frequency. Our team can answer any questions you may have and help you create a comprehensive maintenance plan that involves tire rotation, oil changes, and more.
Tips for Rotating Tires on AWD Vehicles
If you're wondering how many miles to rotate tires on an AWD drive model, it's generally 3,000 to 5,000 miles. Unlike FWD and RWD, AWD sends engine power to all four wheels as needed. This causes a greater variance in how the tires wear; some will probably wear more quickly than others. It's always a good idea to check your owner's manual for more information on when to rotate tires. If your car's due for service, don't hesitate to schedule a service visit online using our handy online scheduler.
Why Rotate Tires at All?
Of course, tire rotation helps you get the most out of your tires by lengthening their lifespans. There's more to it than that, though. When you regularly rotate your car's tires, you'll benefit from the following:
A quieter, more relaxed ride in your Bentley
Greater wheel grip, so you can fully take advantage of your car's high-performance features
A drivetrain that operates smoothly under minimal stress
Being prepared for unexpected weather around Dallas
While you're moving around the outside of your vehicle, you might get the impression that it's time for a deep clean. Find out how to wash your car the right way, today.
Learn More About Bentley Tire Service from Bentley Austin
Now that you have a general answer to the question, "How often should you rotate your tires," contact our service center near Houston to learn more about what's best for your Bentley. Want more great service tips from our experts? Explore our service tips and tricks hub, find out how Bentley braking systems work, and don't forget to browse our newest service specials for coupons.
More Auto Service Tips From Bentley Austin